ISBN 978 0 6485549 0 5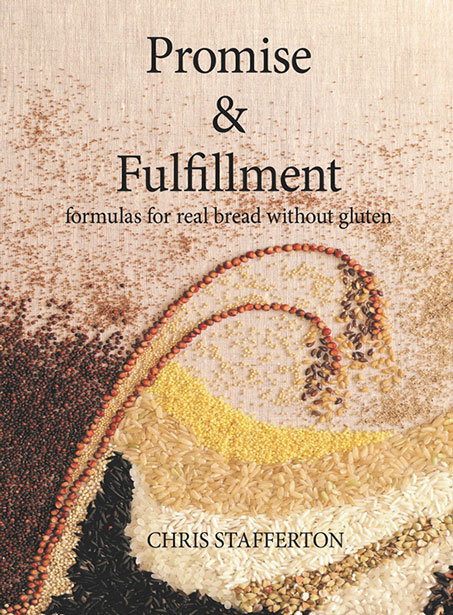 Promise & Fulfillment is about making good bread without gluten. That's bread with flavour, taste and texture from fresh, natural ingredients prepared in time-honoured ways. It's about understanding and working with ingredients, to reveal their potential. It may be quick rolls or naturally fermented panettone, challah, brioche, and croissants.
Promise & Fulfillment provides 58 original formulas for real bread made without gluten as well as 2 original formulas for soda bread following the same methods. Bread formulas are grouped into sections for:
·        basic bread,
·        baguettes,
·        flatbread,
·        seeded bread,
·        fruit bread,
·        rolls, 
·        crispbreads,
·        soda bread,
·        enriched bread, and 
·        viennoiserie.
As well as the original bread formulas over 45 pages of guidance for preparing bread without gluten, including sections about:
·        the bread-making process,
·        preparing sourdough starters with only flour and water, 
·        techniques for preparing and using an original, and innovative gluten-free form of lievito madre to make panettone, challah, brioche, pizza and croissants, 
·        preparing malt flours and powders, and
·        milling gluten-free seeds for 'wholegrain' flours. 
Additional resources include:
·        a Free-From chart to assist in identifying possible allergens, as well as allergy friendly bread formulas,
·        a Key Ingredients Summary to assist in finding bread formulas based on particular flours, and
·        troubleshooting guides. 
Promise & Fulfillment will gently guide those with no baking experience and the novice gluten-free baker, as well as challenging and extending the experienced baker.
Author Bio
Not a stranger to dabbling in the kitchen, Chris was challenged to go to the next level when his doctor told him to remove gluten from his diet. With a background in engineering as well as a love of food (especially bread!), reading and problem-solving Chris set to work, tinkering in the kitchen to develop real bread without gluten. The learning curve was very steep as he set out to understand how to make bread with minimal, simple ingredients and without additives. The challenge increased when one of Chris's daughters was also put on a gluten-free diet. There was the matter of making bread and other baked goods that a teenager would eat and would be confident to share with friends. If a bread ever scored more than 5/10 Chris knew he was heading in the right direction. When the score was 8/10 or better, he was ecstatic!
For the past 8 years, Chris has provided recipes, coaching, and consultancy in gluten-free baking around the world. Over recent years he has baked his bread and collaborated with bakers in Australia, France, the UK, the Czech Republic, Greece, the USA and Germany. He continues to research, innovate and refine techniques to produce better bread without gluten.
Format
First edition is hardback.
212 pages
111 photographs
Publication date
1 July 2019
Availability
Promise & Fulfillment is available to purchase online through major online booksellers.
Copies can be ordered through many local bookstores.
(Promise & Fulfillment is available to the trade on through print on demand services of Ingram Spark.)
Price
Recommended AUD $54.50 (ex GST)
International prices should be comparable but may vary according to local taxes.